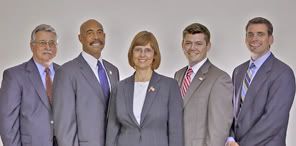 Historic City News watched as the St. Johns County Commission discussed thirty-four persons who had submitted their names to fill nine vacancies on the Tourist Development Council's board of directors during a special meeting that began at 9 a.m. Tuesday.
County commissioners voted August 11th to "sunset" the existing TDC board ending their terms of service; all but two re-applied.
In this morning's meeting, the three municipal appointees were re-appointed, including:
• Commissioner Cyndi Stevenson – Chair, St. Johns County Board of County Commissioners
• Mayor Joe Boles – City of St. Augustine – partial term to expire December 13, 2010
• Commissioner Rich O'Brien – City of St. Augustine Beach – partial term to expire January 1, 2012
The remaining six board members are selected from the tourism and lodging industry. Appointed this morning were:
• Fred Cozby – Director of Lodging, Ponte Vedra Inn & Club – four-year term to expire August 25, 2013
• Jeffrey Mayers – General Manager, Sawgrass Golf Resort and Spa – three-year term to expire August 25, 2012
• John Yanni – Owner, Rodeway Inn – two-year term to expire August 25, 2011
• Bill Hughes – General Manager, TPC Sawgrass – four-year term to expire August 25, 2013
• Scott Bartosch – President of Board, Limelight Theatre – three-year term to expire August 25, 2012
• Jack Peter – Senior Vice President and Chief Operating Officer, World Golf Hall of Fame – two-year term to expire August 25, 2011
There was only one appointment that caused controversy; resulting in a 10:00 early recess called by Chairman Stevenson who was obviously very emotional about the outcome of the vote.
Former TDC Director Frank Usina re-applied for appointment and was nominated, with high praise, by Stevenson. Commissioner Sanchez also spoke highly of the contributions that have made to tourism in Florida by the Usina family.
Commissioner Ken Bryan interjected that his district, District 5, was not well represented on the TDC Board and declared that John Yanni should be given Usina's seat. Sanchez pointed out to Bryan that North Beach, where Usina has operated a family owned campground for decades, is also included in District 5.
Stevenson began listing a few of Usina's numerous credentials in local tourism and suggested that the continuity of a well established member of the tourism industry was in the best interest of the board. Bryan was not dissuaded. Bryan said that we needed "change" and that Yanni should be appointed over Usina.
After the vote, Stevenson, who has worked with both Frank and his wife, Betty, on other community issues, was visibly shaken because Usina was not re-appointed.
The Board finished their special meeting before noon and Chairman Stevenson used her closing comments to recognize the lifetime contribution of Frank Usina to St. Johns County tourism as well as four generations of the Usina family who founded several local attractions and lodgings that are still in operation to this day.
Let us know what you think >>