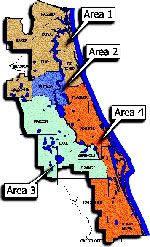 As Historic City News readers "fall behind" Sunday, November 1st, and change their clocks from Daylight Savings Time to Eastern Standard Time, we want to remind you that landscape irrigation will now be limited to only one day each week.
The restrictions apply throughout the 18 counties of the St. Johns River Water Management District; including St. Augustine and St. Johns County.
Because lawns need significantly less water in Florida's winter months, landscape irrigation is limited to one day a week on the following schedule when Eastern Standard Time is in effect:
• Saturday at addresses that end in an odd number or have no address
• Sunday at addresses that end in an even number
• Tuesday for nonresidential landscape irrigation
• No irrigation allowed between 10 a.m. and 4 p.m.
In addition, irrigation is limited to 3/4 inch of water per irrigation zone and to no more than one hour per irrigation zone.
These restrictions apply to water withdrawn from ground or surface water, from a private well or pump, or from a public or private water utility, but they do not apply to irrigation using reclaimed water or storm water.
When daylight saving time returns on March 14, 2010, landscape irrigation will return to the two-day-a-week schedule.
For complete information about the District's watering restrictions and exceptions to the rule, visit the District's Web site.
Let us know what you think >>