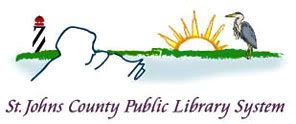 Library Statistics Remain High –
In years past, the return of the school year signals a slowing of library activity. Not so for 2009. Library statistics show that business is booming.
In September, circulation grew almost 10 percent over the previous year. For all of Fiscal Year, patron visits to all library locations totaled 1,170,407.
Free Electronic Databases –
One library service getting increased usage is the extensive collection of electronic databases. The library system recently had a man from St. Louis purchase an out-of-County visitor's card just so he could access the Auto Repair Database. This service, valued so highly by the St. Louis man, is available to all St. Johns County residents through the Library's website at no cost. Here are a few examples of electronic databases available 24 hours a day, free of charge, through the St. Johns County Public Library website:
Auto Repair Reference Center – Research automotive specification, repair, and recall information for some vehicles manufactured from 1954 on.

Florida Electronic Library – Available resources include electronic magazines, newspapers, almanacs, encyclopedias, and books, providing information on topics such as current events, education, business, technology, and health issues.

Health and Wellness & Alternative Health – Source of information on health, diet, fitness, medications, herbal remedies, and alternative medicines and treatments.

Learning Express Library – Take practice tests for many official school and career exams including FCAT, GED, GRE, SAT, ACT, and others.

TumbleBooks & Tumble Readables – Animated, talking picture books which teach reading and also online chapter books for older kids and teens.
Program Highlights –
The Library offers many programs each month, and here are a few upcoming highlights: "The Flu & You" is part of a health seminar series at the Main Library, offered on Thursday, November 12 and 2:00 pm. Also, "Read to Rover" is offered this winter at the Southeast Branch Library, beginning Saturday, November 7. This program allows children to read to a canine buddy to improve reading skills, without feeling embarrassed or pressured by an adult.
Barcode Anniversary –
Fun fact…last month marked the 57th anniversary of the barcode. Why not visit a Library and check out one of the 430,313 barcodes attached to your favorite books, movies, and music, all at no cost to residents of St. Johns County.
For more information about these and other programs, visit the Library website at www.sjcpls.org.
Let us know what you think >>