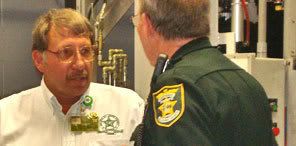 Kevin Kelshaw reported to Historic City News last night that the St. Johns County Sheriff's Office was on the scene of a police involved shooting in Crescent Beach.
The suspect was struck multiple times and was transported to Flagler Hospital with life threatening injuries.
No officers were injured in the incident.
Deputies responded to the 200 block of Gracy St. off Middleton Avenue in Crescent Beach at 9:45 p.m. in response to a report of a man brandishing a gun while walking down the street.
As deputies arrived, the man walked into his residence.
Additional units from the Sheriffs Office and St. Augustine Beach Police responded; surrounding the residence.
The man, whose name has not yet been released, came back out of his residence — still brandishing the handgun.
The subject refused to drop the weapon and pointed it at officers. Multiple shots were fired by more than one officer striking the man several times.
As is standard procedure in such situations, the Florida Department of Law Enforcement was notified and the investigation is continuing.
Share your thoughts with our readers >>