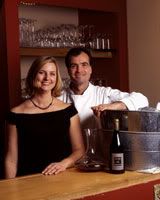 Historic City News invites our readers to experience Opus 39's new menu style; including Chef's 5-course menu Spontane.
Now there are three ways to have the Opus 39 experience.
For those looking for a la carte, we now offer a full page selection of a la carte menu choices.
But, for those of you who enjoy the 5-course menu that Opus 39 has offered since we opened 6+ years ago, you can now enjoy the Chef's 5-course menu Spontane.
This is a 5-course menu created just for your table by the talented chef's in our kitchen.
And if you like sharing, be prepared, because everyone at the table will have a different dish with each course.
And finally, for those who want the ultimate Opus 39 experience, try the 7-course tasting menu, (with choices for each course) designed with choices to satisfy everyone.
Anyway you want to order, Chef Michael promises you will not be disappointed, as you experience the food, service and wine that is part of every Opus 39 experience.
Let us know what you think >>