Historic City News has learned that the 23-year old mother of two young children, who allowed their father to watch them and then passed out a week ago, was charged with child neglect today.
The suspect, identified as Heather Lynn Session, 23, 740 Geneva Ct., St. Johns, was picked up after an arrest warrant was issued.
The investigation began last Monday afternoon when a three year old boy went to a neighbor's house on Geneva Ct. claiming he was hungry and hot. The neighbor suspected that the child and his family recently moved in across the street and she went to investigate.
The witness knocked several times and spotted an opened door, however, she described the residence as unlivable.
The neighbor went home and called the Sheriff's Office and Deputy Weaver responded.
After numerous times knocking on the door, he entered. The child's father was discovered passed out in a rear bedroom at the home. The air conditioner was broken. It took several attempts at yelling at the subject and shaking him before he responded.
Deputies also located a one-year old baby girl playing in a crib next to the father.
On the scene, deputies located alleged drug paraphernalia in plain view.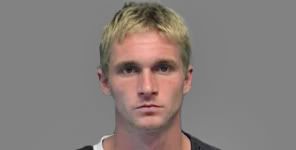 The father, identified as Jarred James McKie, 24, 740 Geneva Ct., was arrested on charges of child neglect and possession of drug paraphernalia and was booked into the County Jail. He was released after posting $500 bail. The Florida Department of Children and Families was notified and the children were released to a relative.
Special Victims Detective Steve Gazdick learned that there had been several prior cases involving the family and D.C.F.
According to Kevin Kelshaw with the St. Johns County Sheriff's Office, the children's mother signed a voluntary protective services agreement earlier this year indicating that she would keep the father away from the children until he completes a parenting class — which he has not taken to this point.
Session allowed McKie to move back into the residence despite the repeated incidents.
Session left the two children alone with McKie on June 22nd; the date the older child went to a neighbor's residence seeking help.
Session was charged with child neglect and was booked into the County Jail on $5,000 bond.
Let us know what you think >>