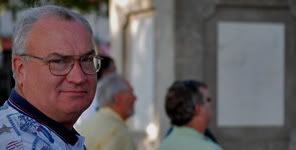 City Manager Bill Harriss, flanked by former commissioner Bill Lennon and Chief Administrative Officer Tim Burchfield attended this mornings commemoration ceremony in the Plaza de la Constitución.
City Commissioner Don Crichlow opened the ceremony at 8:30 with the posting of the colors by the St. Augustine Police Department and pledge of allegiance.
Crichlow introduced Reverend Joshua Dryer, Associate Pastor, Ancient City Baptist Church, who gave the invocation and musical presentations by Ms. Maria Burk.
In memory of those who died as a result of the terrorist attacks on September 11, 2001, and in observance of Patriot Day and National Day of Remembrance, the Governor, in accordance with the Proclamation issued by the President of the Untied States on September 10, 2009, has called upon all department agencies and each instrumentality of the United States to display the United States flag at half-staff on September 11, 2009.
The brief program was simple and concluded with a moment of silence at 8:45am, timed to coincide with the time the first plane hit the first tower of the World Trade Center.
Afterwords, The Cathedral Basilica, Trinity Episcopal Parish, Memorial Presbyterian Church and Flagler College participated in ringing of the bells throughout the downtown.
Photo credits: © 2009 Historic City News staff photographs
Let us know what you think >>