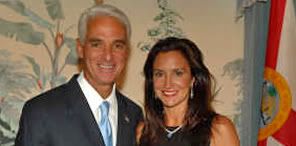 "As the Passover holiday begins, I send warm greetings to all Floridians of the Jewish faith who will begin observing this rich tradition today at sundown.
Passover calls to mind a message of hope and God's gift of freedom to every man and woman.
This eight-day observance commemorates the liberation of the children of Israel from the slavery of Egypt and marks the beginning of the Jewish people's journey to the Promised Land.
"Passover is an opportunity for Jewish families and friends to remember God's mercy and deliverance from the bonds of slavery. During this holiday time, let us also remember the sacrifices made by our brave service men and women serving overseas and pray for their safe return home.
"As families in Florida and around the world gather to celebrate the holiday message of freedom, liberty and human dignity, Carole and I offer best wishes for a Happy Passover."
Share your thoughts with our readers >>