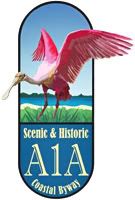 The Friends of A1A Scenic and Historic Coastal Byway, in coordination with the Florida H.O.G. Rally, is offering photo opportunities of the participants with their motorcycles at next week's statewide event in St. Augustine Beach.
The Rally, which is scheduled for October 21-24, has several photo events planned, all of them to benefit the Friends of A1A's activities on the scenic byway in St. Johns and Flagler counties. They include the following:
● Prior to rally registration opening on Oct. 21 and 22, the Friends of A1A will have photographers posted at the north entrance of A1A Beach Boulevard north of Pope Road from 8-10:30 a.m.
● On Oct. 22 and 23 from 10 a.m. to 5 p.m., the Friends will have a drive through photography studio just south of the St. Augustine Pier, adjacent to the pier parking lot. Bikers will be able to have their photo taken on their Harley with a custom made Florida scenic byway background. There is a suggested donation of $5.
● On Oct. 24, photographers will be posted at scenic points along the Parade of Flags route, including the SR 312 Bridge and downtown St. Augustine.
● Information about the Friends of A1A's photo opportunities will be available at the rally registration table inside the Holiday Inn at St. Augustine Beach, the rally headquarters. In addition, the Friends of A1A will have signature merchandise available, such as bandanas, Tshirts and hats created just for bikers.
The Friends of A1A has information posted on its website www.scenica1a.org about the rally, including suggested cycle routes that highlight the byways scenic and historic features. The website also includes links to parks, beaches, shopping and dining for visitors as part of the newly acquired marketing grant from VISIT FLORIDA. Information about the rally can be found at www.flstatehogrally.com.
The Friends of A1A Scenic and Historic Coastal Byway is a non-profit organization that protects, preserves, and enhances resources along the A1A National Scenic Byway. This citizen's advocacy group partners with municipalities, governmental agencies and other civic groups to maintain and improve resources along the corridor.
Designated in 2002, the A1A Coastal Byway consists 72 miles along St. Johns and Flagler counties Atlantic Ocean. The Byway is rich in history, nature, archeology, culture, scenery and recreation. The Friends of A1A's efforts benefit residents and travelers alike by maintaining the identified intrinsic resources while allowing economic development.
Let us know what you think >>