Historic City News has been alerted to an alleged attempted robbery of a local bank this afternoon.
Deputies responded to a possible holdup at the Sun Trust Bank, 400 block of Prosperity Lake Dr., off C.R. 210 West shortly before 2:00 p.m. today.
Witnesses stated that the man shown here on surveillance video entered the bank and approached a teller. He displayed a note indicating that he needed money.
The teller asked the man if he needed a withdrawal slip and he stated that he "needed some of the money".
The clerk then requested her manager and the subject walked out of the bank with no money.
Detectives would like to identify the subject and question him on his intentions at the bank.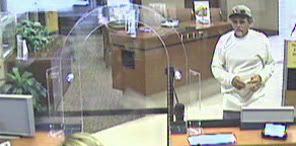 The subject was described as a white male in his 50's with a grey beard. He was 5'5" tall wearing a long-sleeve mock khaki or white turtleneck shirt. He was last seen getting into an older model maroon Toyota Corolla with an unknown Florida tag and headed east on C.R. 210.
Anyone with any information concerning the identity of this subject is asked to contact Detective Kevin Roberts at the St. Johns County Sheriff's Office at (904) 824-8304. You can also remain anonymous and possibly be eligible for a cash reward by calling CrimeStoppers of North Florida at 1-(888) 277-8477.
Share your thoughts with our readers >>