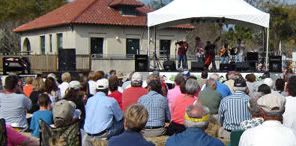 Dominic Mercurio gave a preview to Historic City News and advance notice to get ready for great seafood nearly any way you want it; tap your toes to live bluegrass, folk and country music, then stroll through more then 100 arts and crafts exhibitors.
These are just a few of the highlights of the 29th Annual Lions Seafood Festival to be held in St. Augustine on March 12-14th, 2010.
This three-day event is a favorite throughout northeast Florida and features tons of delicious seafood, outstanding music and affordable arts & crafts.
The event has fun for all ages, so bring the kids.
The business showcase, contests and prizes add to the fun. You can WIN groceries, a motor scooter and cash prizes.
To be held at Francis Field at 29 W. Castillo Drive in St. Augustine, next to the Visitors Center garage. Festival hours are 3-9 p.m. on Friday, March 12th, 10 a.m. to 9 p.m. on Saturday, and 10 a.m. to 5 p.m. on Sunday.
Admission is only $2 for adults, kids 12 and under is Free! All net proceeds go to benefit Lions Club charities.
For recorded information, call 904.825.0850 or visit www.lionsfestival.com
Let us know what you think >>