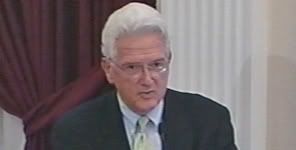 City Attorney Ron Brown will introduce a resolution to commissioners Monday night to designate the promenade and grounds surrounding the St. Augustine and St. Johns County Visitor Information Center and Historic Downtown Parking Facility as "proprietary city facilities".
Unlike the Plaza, the Visitor Information Center, Parking Facility, west garden of the Government House and other public areas have not been used as a "public forum" for First Amendment Expressive Activities and have never been designated as such.
Under the resolution, the city manager would be empowered to regulate activities in public areas like the west garden of the Government House which have recently seen the development of vending activities.
Brown says the resolution, if approved, will establish that such areas are not a public forum, and "as such, the city will exercise management and control over all activities occurring in these areas, including first amendment expressive activities protected in a public forum and any other use of the premises."
Photo credit: © 2009 Historic City News staff photograph
Share your thoughts with our readers >>