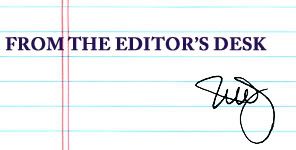 In an editorial that appeared in the Charlotte Sun yesterday, the newspaper's staff took the position that their county commission should force Charlotte County Sheriff William Cameron's hand with regard to his proposed annual budget.
To quote the article, "Budget cuts are painful, especially in public safety, but the sheriff is ignoring reality."
Here in St. Johns County, our Property Appraiser faces declining taxable values — not unlike the property appraiser in Charlotte County and most of the other counties around the State. That means that county tax revenues are plummeting and the County Commission is now faced with the likelihood of not funding services that were once considered essential.
In Charlotte County, the Sun article says that their property appraiser has warned this week that prior guidance on taxable value for this year may be a third lower than the "worst-case scenario" budget officials had been expecting.
The Sheriff in St. Johns County is a constitutional officer. He is elected — a politician, not a bureaucrat. He employs a Chief Financial Officer who earns about $100,000 yearly. CFO Mark Simpson coordinates the preparation of the Sheriff's annual budget. It is a consistently increasing budget with every fiscal year.
In Charlotte County, Sheriff William Cameron ignored commission calls to slash his budget, submitting a proposal to cut just 2 percent from a budget that has tripled in the past decade to $60 million. Reportedly, Cameron told the Sun before his election that he felt the sheriff's office, of which he was second in command at the time, was a "lean" operation.
The Sun editorial writes that although Cameron's claim of being a lean operation may have been so before he was elected and it may be relatively efficient today, that's not the point.
The growth in the Charlotte County Sheriff's Office budget — which came under four different sheriffs, including a prior stint for Cameron — does not reflect population growth or inflation and certainly hasn't produced a corresponding drop in crime, according to the Charlotte Sun.
Fire Rescue and Emergency Management are the other two public safety budgets funded by the St. Johns County Commission. However, those county departments do not enjoy the same autonomy as the Sheriff — their department heads are not elected but rather they answer to the County Administrator.
When the final revenue numbers are known, the essential Fire Rescue and Emergency Management services will be under close scrutiny by the Commission. On the other hand, the Sheriff is a public safety administrator with his own checkbook – just like the other elected constitutional officers.
Public safety is a core function of government, and we agree that it is an important one.
In Charlotte County, even the County Commission, which sought a 15 percent cut from all constitutional officers, is split on how much to squeeze their sheriff's office. Charlotte Commissioners Tricia Duffy and Adam Cummings have argued that law enforcement spending should not be subject to the same cuts as county and other constitutional offices.
But Charlotte Commissioner Bob Starr, who led a push to explore privatizing the jail and the Fire/EMS department, said in a meeting earlier this month that the county was "getting hosed" by the sheriff's office and fire department. Commission Dick Loftus was less colorful, but no less insistent that deeper cuts must be made.
"Charlotte County can't afford a Cadillac sheriff's office on a Chevrolet budget." says the editorial. According to new estimates on taxable value released this week, a county deficit pegged at $48 million could grow another 30 percent to $62 million. Cameron's failure to acknowledge the current economic climate borders on arrogance. We're further disappointed in his tactic of playing his office's runaway budget against the fire department. That falls short of the kind of leadership we think voters expected.
If Cameron can't or won't find more cuts, the County Commission may be forced to resort to hardball tactics used by past commissions. Pick a figure — a 15 percent cut from $60 million leaves $51 million — and tell Cameron that's his budget. Maybe then Cameron will get serious about submitting a realistic budget given the current freefall in tax revenues. Or he can role the political dice and take his chances appealing his budget to Tallahassee.
In past years under the administration of former Sheriff Neil Perry, that was the prevailing attitude and thinking. The current chairman of the Board of County Commissioners in St. Johns County, an accountant by profession, was insulted when she says she was given the cold shoulder and felt that Perry was trying to brush her off when she first asked for additional backup and documentation for his multi-million dollar budget. She says that in so many words Perry told her that it was very complex and would be hard for her to understand. Needless to say the insult didn't set well — nor should it have in our opinion.
The time has come to tighten every budget and unfortunately, those administrators responsible for submitting public safety budgets are not exempt.
Let us know what you think >>