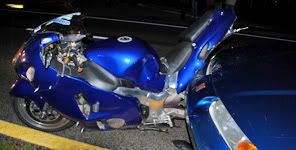 Historic City News has learned that shortly after 9:00 p.m. last night, a car collided with a motorcycle on US 1 south of I-95 below the St. Johns County line; sending the biker to a Flagler County hospital.
The operator of the motorcycle, whose identity was reported at the scene as T. J. Biggs, left the White Eagle in Bunnell only thirty minutes before the accident according to bystanders who were with him at the time.
Biggs, described as a local man in his early twenties, was reported to be eating chicken wings at the White Eagle with member of the Midnight Club Reapers Motorcycle Club.
A man at the scene who identified himself as "Knuckles" says that he is the "enforcer" for the motorcycle club; where Biggs is a new member.
"T.J. called our chapter in New Smyrna from his cell phone while he was being put on the stretcher", Knuckles said. "The New Smyrna chapter called the Palm Coast chapter and we came up to see if we could help".
Knuckles went on to say that Biggs had just passed on the right of a late model Saturn sedan headed north towards St. Johns County on US 1. Biggs was said to have slowed down after he passed the Saturn, then the car overtook the motorcycle.
Police at the scene say that it is too early to know if alcohol played a factor in the accident; however, rain last night made the roads more of a hazard. Biggs condition at the hospital is unknown.
Photo credits: © 2009 Historic City News staff photograph
Let us know what you think >>