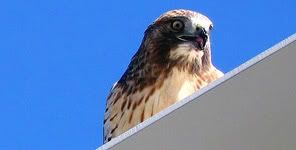 Ali Fulcher reported to Historic City News that the St. Johns County Audubon Society will be holding a raptor migration field trip this weekend.
On Saturday, October 10, 2009, at 8:00 a.m., participants will meet at the Vilano Park, which is located at the east end of the Vilano Beach Bridge.
St. Johns County Audubon Society Chapter president, Andrew Thornton, will lead this field trip, which will focus on raptors.
American Kestrels, Merlins and Peregrine Falcons are migrating through Florida right now — making their way from the Northern US and Canada down to Florida and beyond.
What promises to be an exciting field trip will focus on the various tips and tricks of identification for these birds as well as other raptors.
If you plan to participate, some suggestions for things to bring include sunscreen, hat, water, bug spray, binoculars and field guides — if you have them.
For more information about the St. Johns County Audubon Society or for more trip details, visit their website at www.stjohnsaudubon.org
Photo credit: © 2009 Historic City News photographer Kerry McGuire
Let us know what you think >>