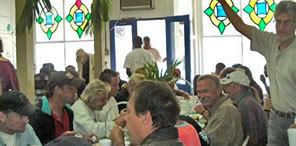 Kathleen Floryan, REALTOR with Prudential Network Realty, reported to Historic City News that this Sunday, January 18th from noon until 6:00 p.m. she will be hosting an open house to help re-stock the shelves for St Francis House.
Now that the holidays are over the pantry shelves are almost bare. From Renee Morris, Director of the St Francis House, they need the following items the most:
Sugar, Coffee, Powdered Coffee Creamers, Canned Tuna and other Canned Meats, Large jars of Jelly, Large Jars of Peanut Butter, Canned Fruits and Vegetables, and Canned Soup.
The open house will be located at the home of David Hoak, 38 East Park Avenue in Fullerwood Park.
A power point presentation about the St Francis House will be continuously playing during the open house along with other information on how to support all of the efforts of the St Francis House.
According to a recent report a significant number of St Johns County population are now on food stamps and the need is growing dramatically.
Floryan said, "Renee has told me that she is seeing people who used to generously donate to the pantry now coming to the St. Francis House for food themselves."
Share your thoughts with our readers >>