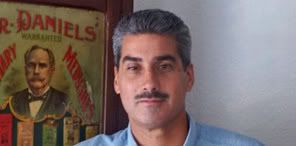 Dana Ste. Claire, who currently serves in the dual capacity of Executive Director of the 450th Commission and the city's Director of the Department of Heritage Tourism, reported to Historic City News on his progress since taking on these new roles.
On March 30, 2009, the St. Augustine 450th Commemoration Commission was enacted to serve as a 14 member federal commission in support of the celebration of the city's 450th anniversary.
The Secretary of the U.S. Department of Interior will soon appoint the fourteen members to the 450th Commission and the city commission and governor have already forwarded some of those recommendations.
Sterling Ivey in the Executive Office of the Governor reported to Historic City News yesterday that The Governor has nominated three individuals for the Interior Secretary's consideration.
The three Floridians nominated by Governor Crist are Phillip Green of Ponte Vedra Beach, Cheryl Robitzsch of St. Augustine and Douglas Burnett of St. Augustine.
As previously reported by Historic City News, the city commission officially recommended to the Interior Secretary a representative from the Catholic Dioceses of St. Augustine, former Governor Bob Graham and former Secretary of State Colin Powell.
The commission also made suggestions for the Governor's consideration including Mitchell Cypress; Chairman of the Seminole Tribe of Florida, His Excellency Jorge Dezcallar de Mazarredo; Spain's ambassador to the United States as well as Nigel Sheinwald; Her Majesty's Ambassador to the United States of America.
Ste. Claire explained that, as Executive Director, he wants to be certain that the fourteen member federal commission reflects a board that is both professionally diverse – and culturally diverse.
St. Claire went on to say that the celebration is not to be confused with a "single day in time" event; where the city is going to cut a birthday cake in front of City Hall and the next day everything is forgotten. "This is a three year, linear event", Ste. Claire told us.
There will be many opportunities for all communities and cultures to participate in various ways as this project comes together according to Ste. Claire. "This process is going to be –inclusive- not –exclusive- and we will continue to ask that additional citizens show their interest and volunteer to participate where they are needed and we will continue to encourage those who will make these appointments to keep our multi-professional, multi-cultural goals in mind."
In addition to the three seats recommended by the Governor and the three seats recommended by the City of St. Augustine, the Mayor, the Park Service and the Chancellor of the State University System each get to nominate a commission member. The final five recommendations come from the Florida Congressional delegation.
Let us know what you think >>