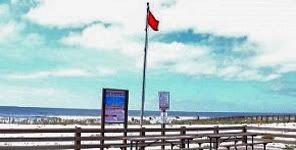 Karen Pan reported to Historic City News that for the second weekend in a row, St. Johns County beaches will have high tides, extreme surfs and strong rip currents, this time due to Tropical Storm Danny in the Atlantic.
Red flag advisories will be in effect on all St. Johns County beaches throughout the weekend. Additionally, around times of high tide, portions of the beach may be subject to emergency closures to vehicles.
Surf heights are expected to reach six feet and all swimmers, surfers and beachgoers should expect strong rip currents.
The ocean may appear calm on the surface, but large sets of strong waves will come periodically, creating very strong rip currents, particularly on Friday and Saturday.
Marine Rescue personnel will be on the beach, and people are encouraged to swim near the posted lifeguards.
Like last weekend, the storm may also generate significant amounts of marine debris and juvenile Sea Turtles, which is common during Sea Turtle Nesting Season. If anyone encounters juvenile sea turtles, please call (904) 227-0023 and leave an area code and phone number on the emergency pager.
Let us know what you think >>