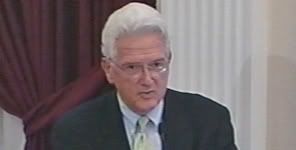 Historic City News has learned that City Attorney Ron Brown will ask commissioners to rescind City Ordinance Section 22.6 that bans sales in the Plaza de la Constitución and surrounding areas at their upcoming meeting Monday night.
According to the St. Augustine Report, Brown will present ordinances from several other cities that address vending in public areas.
In doing so, Brown recommends that "it's better to start fresh" than to try to tweak the existing code.
Section 22.6 was weakened when a federal judge upheld four artists representing painting, printing, sculpture and caricature drawing.
The ruling conflicts with an earlier county court ruling that the city has to allow "all or nothing" in Plaza activity.
Since the ruling, enforcement of Plaza regulations has been suspended, resulting in a return of commercial as well as art sales.
Brown reportedly has been poring over ordinances from other cities that have been vexed by vending in public areas and has selected three examples for commissioners to review; San Antonio, Los Angeles and Venice Beach.
For those planning to attend, Monday night's meeting will begin at 5:00 p.m. in the Alcazar Room at City Hall.
Let us know what you think >>