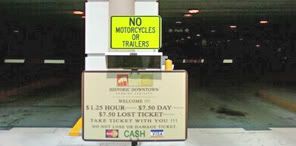 Historic City News was contacted this afternoon by local resident Merrill Paul Roland who is frustrated with city officials in St. Augustine over how they charge handicapped drivers to park.
Roland, who is himself handicapped, has been complaining to the city for at least two years; asking for improvements to access points, sidewalks and properly designated handicap parking spaces.
At this week's city commission meeting, Roland spoke during the public comments segment, prefacing his remarks by saying "I know I'm going to sound like a broken record".
The city has made provisions for at least 30 spaces designated for handicap parking in the Historic Downtown Parking Facility at the Visitor Information Center.
However, according to Roland, he is asked to pay even though he has the proper handicap parking credentials. "Have you ever seen a parking meter at a designated handicap parking space?"
Roland says that people are misdirected and then illegally charged to park in the garage. "It's a violation of the American's with Disabilities Act to charge handicap vehicles to park" said Roland.
Roland says that even though he has a handicap designated license plate, the city won't let him park in the garage at all because his tag is attached to his motorcycle.
Two years ago, Roland participated in a lawsuit originally filed against the City of St. Augustine by Bob Jones. When Jones died in 2006, Roland, who, like Jones, was a member of the Access Now organization, stepped in to conclude the Jones suit.
In lieu of collecting $650,000 in damages, Roland says he agreed with the city that the city would begin spending the award to improve and install compliant handicap access and parking over a period of years.
"As of today," Roland says, "you can see that there are still no handicap parking spaces along the bayfront or surrounding the Plaza de la Constitución."
Photo credits: Historic City News staff photos
Let us know what you think >>