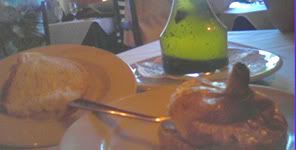 On a recent Wednesday evening my wife and I took a stroll through the Spanish inspired village of historic St. Augustine, Florida.
As you walk down the brick streets there is the beautiful architecture of Lightner Museum and Flagler College set against pristine blue skies and soaring full palm trees.
On this brilliant evening we found the perfect little place for dinner. Collage restaurant is located on Hypolita Street and really is the kind of restaurant you would find in Shakespeare.
Collage was once home to a French restaurant but four years back Mike Hyatt and Cindy Stangby took it over and turned into the home of artful global dining that it has yearned to be.
When you walk into Collage you have the feeling of being back in the time of Ponce De Leon. The walls are a terra cotta color with rich texture, there are low lit iron sconces with hanging crystal accents and a beautiful chandelier with mosaic glass hanging overhead. The interior of Collage is a perfect compliment to the cozy tables which seat a total of 49 guests and the Bougainvillea trees outside.
On this Wednesday evening my wife and I were lucky to get a seat at 7pm. The cozy Collage open at 5:30pm nightly for dinner and was packed with guests, two busy waitresses and owner Mike Hyatt working as busboy, host and wine connoisseur when we arrived. Though the space was close I still felt a romantic vibe with the low light and my love across the table. We were given water and menus with and our orders were taken promptly.
While we waited for our first course we were treated to fresh bread. The bread at Collage was warm and served with an olive and pesto oil and sauteed garlic. The garlic at Collage was exlucisve and was served whole with a soft center. This was something that my wife and I had never seen before and fully enjoyed.
For starters my wife had the caprese salad and I the tomato bisque. According to my dear wife the salad was fantastic; each leaf had just the right amount of dressing, the tomatoes were fresh and though she had said a few minutes earlier she wanted to eat less carbs and cheese the mozzarella was delicious. My tomato bisque from Collage was the perfect temperature, just a bit spicy and I could taste the spinach. Both the soup and the salad were well sized; filling without filling you up.
In between the soup and salad and entrée we were treated to watermelon sorbet home made from Collage. This watermelon was an unexpected and pleasant surprise. The watermelon sorbet had an icy consistency which reminded me of summer days when I was a child and would get Sno Cones from the ice cream man.
From the sorbet to the entrees the atmosphere at Collage was lovely. Listening in on Mike Hyatt work the room; heating regulars chat with the waitresses about the local college and local hair salons brought back a certian comfort to an otherwise foreign and unwieldy trip.
My wife ordered the hand cut USDA choice 8oz tenderloin with Collage signature steak sauce, mashed potatoes and shaved vegetables. My wife had just given up meat for Lent and this was her first taste of steak in just over forty days. She gets her burgers done well but her steak medium or medium rare. She said that the Collage signature sauce had a great spicy kick but was perfect served on the side so that she could decide how much to add to the steak so that the melt in your mouth meatiness shined through. Medium is how she had ordered her steak this evening though commented she would try the medium rare next time around in order to have the middle a bit more pink.
I ordered the chicken cordon bleu which was fantastic. The Collage chicken cordon bleu was served with buttery peppery mashed potatoes, shaved vegetables, stuffed with ham, spinach and Havarti cheese and topped with a béarnaise sauce. The béarnaise sauce at Collage, keeping in-step with many of the entrees at Collage, had a peppery bit of kick but still went down creamy and smooth.
Unfortunately the soup, salad and entrees at Collage were very filling. I say this because the dessert menu is dreamy. I am at a loss for words as to why my wife could not find room for the BougainviLLea dessert. She is a fanatic for strawberries and the BougainviLLea is strawberries sautéed in butter and black pepper served over home made vanilla ice cream with cabernet vanilla sauce. I myself am certainly going to go back, if ever I make it back to St Augustine, for their butter rum cake which looked out of sight.
When you are in the old village of St. Augustine, Florida, you are in a comfortable walking distance from anywhere to visit Collage on foot. You will pass brilliant architecture and cute shops. Say hi to Mike Hyatt as he works the room and then sit back for the inspiring work of master chef Melody Stewart. From the moment you receive your roasted full clove of garlic you will know you are in for a treat.
Collage Artful Global Dining in St. Augustine Florida
By Jesse Schmitt
Let us know what you think >>