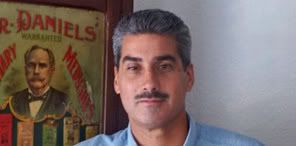 A ship for St. Augustine? A historic newspaper? Asturian pipe bands from our founder's region? A Spoleto-style festival? Exhibit centers? …
They've all been bubbling up as formal organization takes shape for our upcoming commemoration period.
Interim 450 Director Dana Ste. Claire's short answer to whether everyone – and every idea – can be part of it: Jamestown 400 in 2007 had 150 subcommittees.
Ste. Claire has been making the rounds, visiting with organizations, community leaders, the citizen 450 Corps and its Ship Committee, even as the paint is still drying in his office at City Hall.
The 450 Corps, meanwhile, is paring down nearly 100 ideas to a handful, to motivate and assist organizations and individuals to take them on.
Two elements are notable in this initial stage: Ste. Claire anticipates both a strategic plan and appointments to the federal 450th Commission to be completed by end of summer, and the commemoration period will more likely start in 2012, the 200th anniversary of the Spanish constitution, memorialized with likely the last surviving constitution monument, located in our Plaza de la Constitución.
Spain and our sister city and commemoration partner, Aviles, regard that monument very highly as a symbol of Spain's influence in America.
Share your thoughts with our readers >>