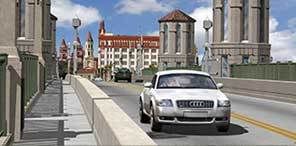 The '27 Club is the first official group of pedestrians to cross the restored Bridge of Lions when it reopens. The group's name recalls the year the Bridge of Lions originally opened, 1927. The group will walk over the bridge ahead of the general public; following a ribbon cutting ceremony.
Rules for entering
Deadline for entries is 5:00pm, Friday, December 4.
Only written entries accepted; no phone calls.
One entry per person, and one entry per letter, postcard, fax or email.
Must be at least school age to enter (5-years old by Dec 4, 2009).
Entries must include name, address, phone number, email address (if available) sent to:
City of St. Augustine
Attn: The '27 Club
P.O. Box 210
St. Augustine, FL 32085
Fax: 904.825.1096, Attn: The '27 Club
Email: the27club@citystaug.com
Drawing
As entries are received in the Public Affairs Department each will be assigned a number in sequence of receipt and filed in numeric order. As soon as possible after the entry deadline and a total number of entries is determined, a drawing will be held by generating a random sequence of numbers between 1 and the total number of entries received. Immediately following the drawing, winners will be contacted based on information on the written entry to confirm identification and contact information.
Participation guidelines
Winners will be briefed on the program noting:
The date of the ceremony has not been determined, but is likely to early in 2010;
Winners less than 18 years of age must have parent's/guardian's written permission to participate;
Winners will be notified as soon as an exact date has been determined which may be as little as three days prior to the ceremony;
The winner is entitled to be among a group to walk over the bridge ahead of the general public;
Winners are not entitled to be accompanied by other family members, guests, or pets;
No winner may allow for substitutions in any situation; and
Winners will receive a certificate signed by the mayor verifying their selection.
If the winner confirms participation then that person becomes one of the 27 members of the group and additional profile information will be gathered for the media.
If the winner declines participation, or if the contact information is incomplete or incorrect so the person cannot be reached, or if the winner cannot be reached for any reason within two full business days, then the next number in the original random sequencing will be selected and the process continues until there are 27 winners. At that time their names will be released to the media.
Let us know what you think >>