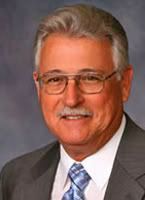 As the roll was called at their annual reorganization meeting, Historic City News watched as the St. Johns County Board of County Commissioners elected Commissioner Ron Sanchez from District 2 to serve as Chair for the 2009-2010 fiscal year.
Both the Chair and Vice-Chair serve at the pleasure of the majority of the Board.
As presiding officer of the Board, Sanchez' duties will be to lead during Commission meetings, sign ordinances and resolutions adopted by the Board and authorize items to be placed on Board agendas, among other things.
Outgoing Chair Cyndi Stevenson and outgoing Vice-Chair Ron Sanchez were presented plaques recognizing them for their year of service. They expressed appreciation to fellow commissioners, staff and the community for support during the past year.
The Vice-Chair for 2009-2010 will be Ken Bryan from District 5, who will assist Sanchez in the expeditious conduct of the Board's business and act as parliamentarian for the Board. The Vice-Chair will, in the temporary absence of the Chair, preside at meetings of the Board and exercise such administrative powers vested in the Chair.
The Board of County Commissioners meets the first and third Tuesday of each month at 9:00 am in the County Auditorium, located at 500 San Sebastian View.
Let us know what you think >>