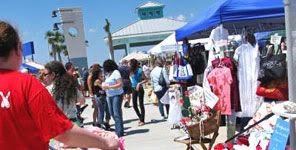 Mitch Hall reported to Historic City News that every Sunday from October 24th through November 29th, Vilano Beach Main Street will be sponsoring a scarecrow making contest.
Straw and supplies for making your scarecrow will be provided at no charge from noon until 4:00 p.m. at The Sunday Market held on the Vilano Beach Pier. Local Girl Scout Troop 1118 will be helping out.
Participants take their creations home the same day and you can bring your own crazy scarecrow costume to the event.
All scarecrows will be photographed for judging.
Winners will be announced at the November 29th Sunday Market.
For more information about the contest or other Events by the Sea, visit TheSundayMarket.com or call (904) 540-8797 or 501-5545.
Let us know what you think >>