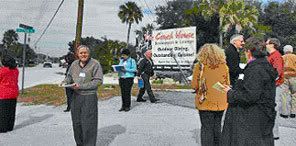 A Scenic Conservation Workshop co-sponsored by the America's Resource Center and Scenic America was held at the St. Augustine Lighthouse and Museum on January 15th and 16th according to a report received by Historic City News today.
The A1A Byway was selected as one of only six national scenic corridors to participate in the forum designed for local leaders to look at ways of protecting and enhancing the natural coastal treasures. The A1A coastal corridor is unique in Florida. The roadway is the main artery of transportation traversing barrier islands with magnificent ocean views. The goals of the event are to engage partners, inventory and map the Byway's visual quality, identify and prioritize issues, and develop scenic conservation strategies. The 72 mile corridor is replete with cell towers, power lines, bill boards and road signs discussed in great detail.
Brad Cownover, Director for Scenic Conservation at Scenic America facilitated the two-day workshop bringing together a diverse mix of community partners from the public and private sectors. Scenic America is a nonprofit organization whose mission is to safeguard America's natural beauty and community character. The America's Byways Resource Center Specialist, Dennis Adams, was helpful in bringing the workshop to Florida. As Adams says, "You have to put yourself in the seat of a traveler to really experience the character of the Byway. Then you begin to understand the opportunities to make memorable first impressions last a lifetime." By strategically planning for scenic issues communities, begin to preserve its character. America's Byways Resource Center; in collaboration with Scenic America, developed a handbook to help the National Scenic Byways manage their visual quality. Kathi Knapp with the Resource Center was also in attendance.
George Harnden, Resource Protection Committee Chair for the Friends of A1A, along with Byway Program Administrator, Sallie O'Hara, organized volunteers from the Friends of A1A to assist in local planning for the event to engage the right mix of community partners to begin development of a scenic conservation plan.
On Thursday, the forum included a four-hour bus tour from the Bridge of Lions to the City of Flagler Beach with strategic stops for discussion and assessments.
Elected officials participating included: Commissioners Cyndi Stevenson and Mark Minor from St. Johns County, Commissioner Frank Gromling from Beverly Beach, Commissioner Jane Mealy from Flagler Beach, Commissioner Nancy Sikes-Kline from the City of St. Augustine, and Commissioner Andrea Samuels from the City of St. Augustine Beach.
Builders, residents, planners, and Friends of A1A attended. Others in attendance include Chuck Padera, Christina James, Amy Kennedy, Vickie Renna, Susie Kontul, Nicole Love, David Wiles, Pat Hamilton, Gordon Lohman, Peggy Heiser, and Elizabeth Vazquez.
On Friday, the workshop highlighted local issues with a panel discussion on park systems by Andrew Rich, Jehu Walker, Shelley Young, and Billy Zeits. Greenway and Blueway Trail plans were discussed by Billy Zeits. Tom Scofield and Kathy Fleming discussed the emergence of the National Heritage Area plans. The workshop encouraged participants to undertake a visual assessment of the A1A Scenic and Historic Coastal Byway and to consider what they want the corridor to look like five to ten years in the future.
Dennis Adams commented that several participants said they would plan a little differently now that they know what scenic conservation really is.
Kathy Fleming from the St. Augustine Lighthouse expressed her continued appreciation for the work along the A1A Byway and confessed she has a keen interest in all discussions around scenic conservation.
Barbara Jenness, President of the Friends of A1A, plans to continue the 2008 Strategic Plan embracing actions addressing cell towers, utility lines, lighting and billboards along the corridor. Barbara said she wanted to keep the enthusiasm seen at the workshop alive and ongoing throughout the year.
Vice President Anne Wilson chairs the Community Participation and Governmental Support Committee for the Friends critical to all project successes. She also wants to see continued involvement by government officials and planners. The Friends of A1A meetings are held monthly in Flagler and St. Johns County and the public is invited to participate.
St. Johns County Recreation and Parks and GIS departments assisted in creating detailed GIS base maps for the workshop.
Let us know what you think >>