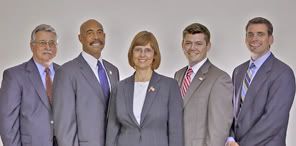 Against the backdrop of increasing public concern regarding the impacts of the economic downturn and decreasing revenues, it was reported to Historic City News that the St. Johns County Board of County Commissioners and the St. Johns County School Board met Wednesday for their quarterly joint meeting.
Both Boards are facing unprecedented budgetary challenges and pledged continual cooperation and mutual support for one another, believing collaboration is the most efficient way to protect public services and quality of life.
The Board of County Commissioners anticipates a $3.5 million shortfall for Fiscal Year 2010, plus an additional $17 million deficit for Fiscal Year 2011. The School Board must address a $33 million deficit for 2010.
While both Boards are faced with making budget cuts that will ultimately impact the public, they assure the community they are pragmatically, and in some instances collectively, evaluating options and will strive to make it through this difficult time with as few negative impacts as possible to the community.
Some of the issues discussed by the boards for potential collaboration include school security, joint use of facilities, recreational programs, libraries and school reading activities, and facility maintenance.
County Commission Chair Cyndi Stevenson was pleased with the meeting and the positive relationship between the two elected Boards. "Because we all represent the same public, it is ideal for us to combine efforts where we can to more efficiently provide services," she said. "The County Commission understands that a good education system is crucial to the quality of life, and we fully support the School Board as we both face tough budget decisions."
The joint meeting built on the budgetary concerns expressed during the education rally attended by approximately 500 officials, educators, teachers, parents and citizens last Friday.
Additionally, on February 17, 2009, the Board of County Commissioners passed Resolution 2009-44 supporting efforts to protect funding for Florida's K-12 education system. The County Commission then sent a copy of the resolution to Florida's other 66 counties to urge them also to fight for education funding.
School Board Chairman Tommy Allen expressed gratitude to the Board of County Commissioners. "We appreciate the County Commission passing a resolution on behalf of public education funding," he said. "This is just a continuation of a long history of cooperation between the School District and the County."
Share your thoughts with our readers >>