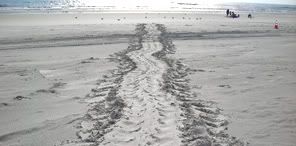 St. Johns County Habitat Conservation and Beach Management reported to Historic City News that beach driving and lighting restrictions go into effect today; the official start of sea turtle nesting season.
Between May 1 and October 31, all beaches will close to vehicular traffic at 7:30 pm and will reopen at 8:00 am. Additionally, all beach front properties are required to eliminate all non-compliant interior and exterior lights that are visible from the surface of the beach.
St. Johns County is home to several species of endangered or threatened sea turtles that arrive every spring and summer to nest along our coastline.
In 2008 St. Johns County beaches had 298 nests (284 loggerhead and 14 green sea turtle) deposited along 41 miles of shoreline.
County residents and visitors have a special opportunity and responsibility to protect these magnificent creatures and their vulnerable nest and feeding grounds. Endangered species are protected by County, State and Federal Laws with fines up to $20,000.
Many factors can negatively impact the nesting habitats including beach driving, horseback riding, beach front lighting, coastal construction and many other recreational beach activities. In addition to adhering to the restricted beach driving and lighting restrictions, St. Johns County Beach Services and Environmental Division remind beach users to observe and abide by the following rules and guidelines:
• Use trash and recycling receptacles to discard trash and debris when at the beach.
• Remove ruts and fill in holes left by vehicles and sand castle building.
• Do not leave chairs, umbrellas or canopies on the beach over night (they will be removed by County staff).
• Flashlights, fireworks and open fires are strictly prohibited.
• All pedestrian activities are prohibited in the sand dunes and the Conservation Zone (15 feet seaward of the dune line).
• Please refrain from using balloons for events, as they fall into the ocean and can harm marine life.
• Leave only your footprints, providing the turtles with a safe and clean habitat to nest.
• Beach goers are reminded not to disturb or handle any sea turtles, their eggs or their nests.
• Support the County's Habitat Conservation efforts and Keep Our Beaches Beautiful!
Share your thoughts with our readers >>