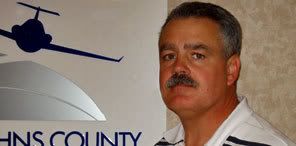 The St. Augustine Airport has asked Historic City News to announce the "seasonal" increase in Aerobatic Box use at the St. Augustine Airport.
Edward Wuellner, the airport's Executive Director said: "If this year is typical, several media outlets will make their way to St. Augustine over the next several months to highlight the performers and the airport".
Local residents and airport users can expect increased activity pertaining to the practice, annual training and recertification of aerobatic pilots in preparation for the 2009 Air Show Season and United States and worldwide aerobatic competitions.
Local and visiting aerobatic pilots will take to the skies nearly anytime from now through the end of April. Activity is limited to daylight hours and normally requires that weather conditions be relatively fair.
Airport Authority Chairman, Kelly Barrera states: "We are pleased to again host the amazing aerobatic talents of pilots like Patty Wagstaff and Michael Goulian at the St. Augustine Airport. This period of the year brings some of the best flying weather in the country and with it a sampling of the world's best aerobatic talent. In addition to hosting their pre-season training and certification efforts, the airport benefits from additional economic impacts and the notoriety that surrounds these pilots".
Some of the prominent aerobatic talent scheduled for the airport include: Former World Aerobatic Champion and Hall of Fame Member, Patty Wagstaff; US Aerobatic Champions, Michael Goulian, David Martin and Michael Mancuso, as well as, Air Show Performer, Christine Gerner.
Share your thoughts with our readers >>