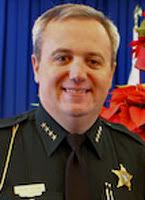 A 54-year old Hastings woman will be more careful the next time she responds to an online job offer judging by information Historic City News has learned from St. Johns County Sheriff David Shoar.
Last week, Deputy Sheriff Lennon responded to the home of Cathy McKettrick to take her report concerning a job listing that she found on the CareerBuilder Internet website.
McKettrick explained that she visited the website and found a job listing for a "secret shopper" opportunity. McKettrick signed up for the job.
Using the name "Brian Cole" at 39 Erie Street in Jersey City, NJ 07302, the alleged "employer" shipped McKettrick two Albertson's Moneygrams via FedEx overnight envelope.
The Moneygrams were each written for $870.00 and came with instructions to cash them at McKettrick's bank. McKettrick was told to do some "secret shopping", take $200.00 for herself, then mail the remainder to David Brown at 1414 Cityland Avenue, Makati, Manila, in the Philippines.
McKettrick found this to be odd and thought the offer was "too good to be true".
McKettrick took the Moneygrams to her bank and asked if they were legitimate. According to the report, the teller said that the bank would cash them for McKettrick, but, if she wanted to see if they were real, she should go to Walmart because they sell such money orders.
McKettrick apparently followed the bank teller's advice and took the Moneygrams into Walmart. The clerk told McKettrick that to authenticate a Moneygram, you rub a circle at the bottom — it should change color.
Neither of the Moneygrams changed color nor did they have a 1-800 phone number on the back that real Moneygrams should have.
In this case, McKettrick discovered the fraud before she became a victim — someone else might not be so lucky. Shoar advises Historic City News readers, "If you have any information about this or other crimes, contact the Sheriff's Crime Tip Hotline at 904-824-9099."
Let us know what you think >>