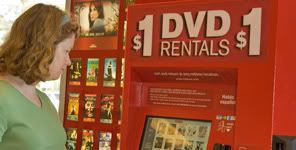 Historic City News reports the new local business tax paid each week; this is the tax formerly known as an occupational license. This week, a new trend in retail sales appears to be gaining footing in St. Johns County.
Redbox Automated Retail LLC, based in Oakbrook Terrace, Illinois, paid the business tax required to operate their automated, self-serve kiosks in locations at 105 Julington Plaza Dr, 2330 State Road 16, 2355 S US Highway 1, 390 N State Road 13, 715 State Road 207 and 8796 E Church Street in Hastings.
The Redbox concept is simple. Each fully automated Redbox kiosk holds approximately 700 DVDs, representing up to 200 of the newest movie releases. Consumers simply use a touch screen to select their favorite movies, swipe a valid credit or debit card and go. The complete rental transaction takes only moments.
Customers can keep the DVD for as long as they'd like and return it to any one of Redbox's more than 17,000 locations nationwide. After 25 nights, rental charges cease and the DVD is the customer's to keep. For added convenience, customers also can visit www.redbox.com to select a DVD online and pick it up at the Redbox location of their choice.
An initial launch of 12 kiosks in 2002, Redbox, a unit within McDonald's Ventures, LLC, now features more than 17,000 locations nationwide and is owned by Coinstar, Inc. Redbox is available in each of the contiguous United States.
Redbox has served millions of unique customers, and thousands more try the service each day. Redbox has also rented more than 440 million DVDs nationwide.
The self-service trend seems to be catching on as local businesses look to identify new ways to drive traffic to their stores and provide added convenience while minimizing payroll costs. The idea of fully automated "convenience store" kiosks seems to be scoring well in consumer testing and in-store trial.
Let us know what you think >>