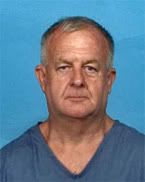 In accordance with Florida State Statute 775.21, this news release will serve as public notification that the St. Johns County Sheriff's Office has been provided information that a person judged to be a sexual predator is residing in St. Johns County.
The name of the Sexual Predator is Charles Edward Foy. He is currently living at 6306 Gomez Road.
Foy is a white male, 54 years old, 5'06", 188 lbs, has Brownish-Gray hair and Blue eyes.
Foy was convicted in March of 2001 for Sexual Battery/Coerce of a Child by an Adult, in St. Johns County, Florida.
He was released from State custody on September 3rd 2009, and moved to St. Johns County.
The public can access information about all sexual offenders and sexual predators in St. Johns County via the internet through the OffenderWatch database. You can also sign up to receive e-mail notifications when a sexual offender or predator moves within a mile of your address.
Let us know what you think >>