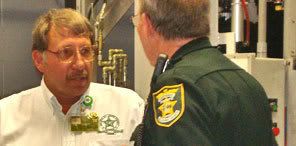 Kevin Kelshaw reported to Historic City News that the St. Johns County Sheriff's Office is seeking a man wanted in connection with an armed robbery of a Ponte Vedra Beach convenience store last night.
According to Kelshaw's report, the clerk says that the man entered the Lil' Champ located at 158 A1A North at 10:20 p.m. brandishing a Baretta handgun and demanded money.
The suspect fled with an undetermined amount of cash.
The suspect was described as a younger black male, 5'6″ tall with dreadlocks. He was reportedly wearing a black hat turned backwards, a gray sleeveless tee shirt and colored shorts. The suspect was last seen on foot running down Drum Place.
Anyone with any information concerning this suspect is asked to contact the St. Johns County Sheriff's Office at 824-8304.
Share your thoughts with our readers >>