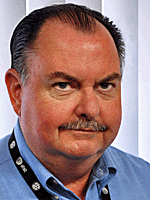 St. Johns County Sheriff's Lieutenant Daniel E. Chitwood, Jr., reported to Historic City News local reporters that the Sheriff's Office has recently launched a new program designed to better serve county citizens.
The program is called the Sheriff's Advisor Council (ShAdCo) and is patterned after successful organizations in other locations.
Chitwood said, "The purpose of ShAdCo is to cement a cohesive partnership in open forum to share vital information, foster a mutual understanding whereby citizen input is paramount in the implementation and effectiveness of Crime Prevention, and demonstrate full accountability to the residents of St. Johns County."
Photo credit: © 2010 Historic City News staff photograph
Such a program will further serve to reduce the fear of crime in the county.
For law enforcement purposes, St. Johns County is divided into four patrol districts.
This first meeting of the Executive Council included citizens from each of those districts.
The Sheriff's Office provided a summary of crime statistics for the county and outlined a procedure for community issues to be presented for resolution. The Executive Council Chair and Co-Chair will be appointed at a later date from applications received.
In addition to the Executive Council, each patrol district will have a separate council consisting of up to ten (10) members including a Chair and Co-Chair.
Chitwood wants Historic City News readers to participate and said, "Citizens interested in serving on the Executive Council or one of the four district councils are asked to submit a ShAdCo Application Form to the Sheriff's Office."
Forms may be obtained at the Sheriff's Office, at any of the satellite offices, or by calling Lt. Chitwood at (904) 810-6791.
The Sheriff will make the final selection of each council's members.
Photo credit: © 2010 Historic City News staff photograph
Share your thoughts with our readers >>