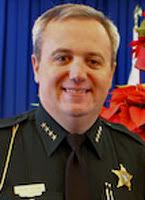 Historic City News was notified that Sheriff David B. Shoar, has been appointed by Governor Crist today to succeed Charles Morris on the Criminal Justice Standards and Training Commission.
Shoar was appointed for a term beginning September 4, 2009 and ending August 1, 2010.
Shoar said, "The Standards and Training Commission is the most important board in our profession."
When asked about the commitments of his new appointment, Shoar told Historic City News that he realizes "the position will be time consuming" and that he hopes he can "add value as my predecessors have".
The mission of Florida's Criminal Justice Standards and Training Commission, is to ensure that all citizens of Florida are served by criminal justice officers who are ethical, qualified, and well-trained.
The primary responsibilities of the commission are:
— Establish uniform minimum standards for the employment and training of full-time, part-time, and auxiliary law enforcement, and correctional and correctional probation officers.
— Establish and maintain officer training programs, curricula requirements, and certification of training schools and training school instructors.
— Certify officers who complete a Florida Basic Recruit Training Program, or who are diversely qualified through experience and training, and who meet minimum employment standards.
— Review and administer appropriate administrative sanctions in instances when an officer, a training school instructor, or a training school is found in violation of Florida Statutes and Commission standards.
— Promulgate rules and procedures to administer the requirements of Chapter 943.085 – 943.257, F.S.
— Conduct studies of compensation, education, and training for the correctional, correctional probation, and law enforcement disciplines.
— Maintain a central repository of records of all certified officers.
— Conduct quarterly meetings to discuss issues and approve rules that relate to officer standards and training.
— Develop, maintain, and administer the State Officer Certification Examination for criminal justice officers.
Photo credit: Historic City News staff photo
Let us know what you think >>