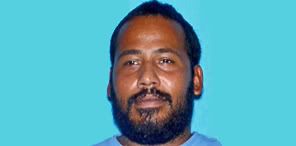 Kevin Kelshaw has reported to Historic City News that a 28-year old Duval County man has been arrested this morning on charges of aggravated battery and reckless endangerment with a firearm following an incident outside a residence in Ponte Vedra Beach.
The suspect, identified as Omar Cruz, 28, who resides at 3138 Post Street in Jacksonville, was taken into custody and questioned.
Deputies were dispatched to the area of Marlin Blvd. and A1A North, shortly after 6:00 a.m. today responding to a call regarding a male subject who had sustained two gunshot wounds to his leg.
The victim, Steve Freeman, 31, who resides in Neptune Beach, was uncooperative with responding deputies and was transported to Shands/Jacksonville Hospital for treatment.
Deputies along with detectives from the Violent Crimes Unit continued to investigate and learned that the suspect and victim were at a residence when they got into a physical argument.
Cruz obtained a gun from the residence according to police and allegedly fired what he said were "warning shots"; striking the victim in the leg two times as well as striking two nearby homes with bullets.
Detectives are continuing the investigation.
Share your thoughts with our readers >>