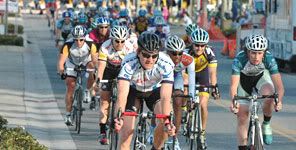 Cycling enthusiasts of all ages will be pedaling into the Nation's oldest city September 12th and 13th for the St. Augustine Cycling Festival according to a report received by Historic City News from Jay Humphreys.
Organized by the North Florida Chapter of the Boy Scouts of America, the weekend festival features a bicycle trade show, bicycle racing and a recreational bike ride suitable for beginners and experienced riders.
Saturday and Sunday will feature both professional and amateurs bikers competing in RiverTown Omnium. Part of the Florida Cycling Points Series, the Omnium will take place on Saturday, September 12, from 11 a.m. to 6 p.m. at the St. Johns County Office Complex on Lewis Speedway.
This closed-course competition features high-speed, elbow-to-elbow racing action. More racing takes place on Sunday at Bartram Trail High School on Longleaf Pine Parkway in St. Johns. Individual time trials begin at 7:30 a.m. and the road race begins at 11 a.m. For more information on the races and to register as a competitor, go to Florida Cycling's website: www.floridacycling.com
On both Saturday and Sunday, the St. Augustine Amphitheatre will host a bicycle expo with exhibits by various manufacturers, opportunities to test ride the latest bikes and to purchase bikes, riding apparel and training services.
At 2 p.m. on Saturday, children in grades K-3 can take a free bicycling safety training course. That evening, the St. Johns County Recreation and Parks Department will offer a free movie at the amphitheatre. Expo hours are noon to 7 p.m. on Saturday and 10 a.m. to 4 p.m. on Sunday.
For more information, go to the festival website http://staugustinecyclingfestival.com
Children must bring their own bike and helmet.
For those who prefer a more leisurely and scenic biking experience, the North Florida Bicycle Club will host the 20th Annual Endless Summer Watermelon Ride. Riders may choose from routes ranging in length from 30 to 100 miles along the St. Johns River or on beachfront roadways – all of which feature rest stops, maintenance and cyclist assistance services.
All of the rides depart from the St. Augustine Amphitheatre on Sunday at 7:30 and 8:30 a.m. The routes all return riders to the amphitheatre.
Let us know what you think >>