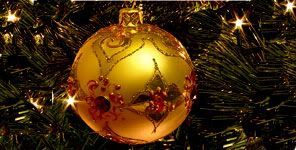 by Brooke Autowski
Christmas in St. Augustine Florida is a spectacular site to see, especially if it is seen up close and personal.
Cobblestone streets, massive trees adorned with Spanish Moss, historic homes, and waterfront views give the ancient city a stunningly unique Christmas look. Join the Garden Club of St. Augustine this December for a nostalgic "Christmas remembered" walking tour of homes.
Since 1926, the Garden Club of St. Augustine has been a meeting place for those with a passion for conservation and beautification of our natural environment. In 1968, the group began its annual walking tour of homes in one of St. Augustine's most beautiful neighborhoods. Now in its 41st year, the Christmas remembered tour of homes has become a grand tradition. Bring the entire family to participate and make this tour of homes a tradition of your own.
The Garden Club of St. Augustine www.gardenclubofstaugustine.org invites everyone to experience the charm, warmth and grandeur of the holiday season in the nation's oldest city. The Christmas Tour of Homes is held on December 6th this year, beginning at 12pm. Free shuttles will be available from the historic downtown parking facility to the Ripley's Believe it or Not Museum, located at 19 San Marco Avenue, where the tour will begin.
From there, visitors will experience a delightful array of Christmas lights and Christmas decorations adorning St. Augustine's historic homes. Walk the beautiful tree-lined streets and marvel at the breathtaking Christmas decorations on display on the privately owned homes of Abbott Tract and Water Street. Children and grown ups alike will be awestruck with the charming display the Abbott Tract neighborhood will offer. All of the Christmas decorations are handcrafted of natural materials by members of the Garden Club.
Brooke Autowski is a full time student, published writer, wife and mother of three who is living in St. Augustine Beach, FL. Autowski studied psychology at Ashford University. Her interests include parenting, healthy eating, cooking on a budget, and says that her motto is "Whatever it takes!"

Let us know what you think >>