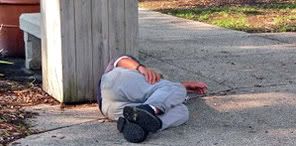 The St. Augustine Report published by the City of St. Augustine and edited by former commissioner George Gardner, reported to Historic City News on St. Johns county's homeless statistics.
A final number of homeless in our county, based on a January Point in Time Count, is 1,237, well below an earlier estimate of 1,368 and one less than last year's count of 1,238.
"It's certainly below the actual number of our homeless population," said Jean Harden of the Emergency Services and Homeless Coalition, which conducts the count for continued state and federal funding to local programs. She suggests apparent duplications in the count resulted from a long day of counting – 5:30 a.m. to 8:30 p.m. – during which homeless persons move to and from jobs and among locations.
The University of North Florida analyzed results from teams of volunteers throughout the county, making counts and conducting individual surveys. Among some 170 surveys – which varied with willingness to respond: 116 males and 40 females, 97 white and 53 black, 30 veterans, 79 married, more than half homeless for more than a year in our county,
Of 137 responding to cause of homelessness, six said housing, 29 medical or disability, 24 family problems, and two natural or other disasters. Of 121 respondents to disabling conditions, 35 listed physical, 16 developmental, 23 mental health, 44 drug or alcohol addiction, and three HIV/AIDS.
Let us know what you think >>