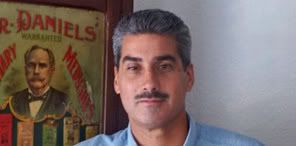 Director Dana Ste. Claire recently shared his visions for a new tourism model with Historic City News.
The new tourism model is designed to "immerse" the visitor in the heritage experience and develop a financially sound Heritage Tourism Department.
The day begins with a visit to a Colonial Spanish Quarter kiosk and a "Town Crier" newspaper at the Visitor Center, describing the day's activities.
Along St. George Street, passersby pause to watch a demonstration of Spanish Colonial crafts. Entering the Spanish Quarter through an inviting entranceway, the visitor sees a townsperson tending an herb garden, then proceeds along one of several paths, following signage to the blacksmith shop, where a soldier is negotiating with the smithy over the cost of a belt buckle.
After making several more stops in the Quarter, the visitor takes a break with a cold drink from a stoneware mug in the Taberna. Now plans are made to attend a scheduled evening program.
A University of Florida study in 2002 estimated 5-6 million visitors to St. Johns County annually, with 4 million visiting St. Augustine and 2 million walking St. George Street.
The city's Heritage Department, created ten years ago when the city took over 35 state-owned historic properties, manages 500,000 square feet of facilities and has 51 employees. Under its purview: The Visitor Center and parking facility, St. George Street, the bayfront, parks, plaza, city-owned historic buildings and sites.
Last year's revenue includes $1 million from the parking facility, $700,000 in sales, and $750,000 in rental income. The Colonial Spanish Quarter has an annual deficit of $250,000. There is little surplus for major necessary repairs to 35 state-owned historic properties managed by the city.
St. Claire reported the following areas of visitor interest:
Authentic Spanish/Spanish Colonial cuisine
Archaeology program with accessible excavations
Traditional Spanish/Spanish Colonial crafts
Comprehensive St. Augustine history museum
Evening historical programs
"The goal of the Colonial Spanish Quarter plan is to create a signature program for visitors seeking authentic heritage experiences in St. Augustine," Ste. Claire says.
He lists 13 initiatives to create a "village" atmosphere, with programs changing daily and a "Town Crier" newspaper at the Visitor Center listing the daily schedule.
Among the plans: greater use of areas like the DeMesa House and yard; landscaping, paths and signage; more attractive entranceway; demonstrations for St. George Street passersby in the entryway courtyard and arbor area; a "colonial gardening" program, evening historical programs, and upgrades in the Taberna, including more authentic interior, Spanish Colonial cuisine, stoneware mugs and glasses, and expanded hours of operation.
Government House
Revitalization of what Ste. Claire calls the "Palace of the Governors" will begin with creation of a colonial "court" visitor experience in the first floor Sala de Montiano room, and expansion of its gift shop to unused sections of the lobby.
Retail
Ste. Claire plans development of a specialized retail outlet at the Spanish Quarter for traditional colonial crafts, manufactured by interpreters and other artisans, and a more focused theme in Spanish Quarter and Visitor Center gift shops.
The Sustainable Tourism Model
The Heritage Tourism Department was established in 1997, when the city was given a five-year lease on 35 state-owned historic properties. They'd been managed for 38 years by a state Historic Preservation Board, part of a statewide system abolished by the legislature.
The department was established as an enterprise fund, with revenues invested back into the program. "There has been no money generated by the program to sustain it," Ste. Claire says. "With legislative appropriation unlikely, as well as other State-related monies, it is important that alternative sources of funding be explored."
His goal is to stabilize the operation and begin to generate a surplus to invest back into growing the program. His immediate target, and greatest opportunity, is the Colonial Spanish Quarter, "the face of St. Augustine's colonial interpretation."
The Quarter, designed to interpret civilian life in the 1740s while the Castillo interprets its military life, draws 27,000 visitors annually, compared to the Castillo's 500,000. Another 30,000 visiting the Quarter are school groups as part of their Florida history studies. Ste. Claire's focus is on the potential thousands of heritage tourism visitors who demonstrate their interest in the authenticity of the Castillo.
"Once a quality and engaging interpretive program is created," says Ste. Claire, "specific marketing strategies will be employed at the Visitor Information Center (VIC) and in visitor guide publications.
"Plans are in development to direct more visitors from the parking facility to the VIC. Once in the VIC, heritage tourists will be cross-promoted to interpretive programs throughout the city."
Making it work
Ste. Claire will be asking the City Commission to approve funds from the city's reserves to begin the improvement process. His reasoning:
"Creating fresh and viable programs that respond to visitor preferences, while maintaining authenticity and an accurate historic storyline, will result in increased visitation to the City's heritage programs – quality visitor experiences that will be developed as profit centers."
Dana Ste. Claire at a glance:
Ste. Claire, who is Director of the Department of Heritage Tourism, brings with him experience as former National Director of Museums for Historic Tours of America, Inc. where he designed and developed museums, historic attractions, history-themed destinations, themed retail stores and interpretive programs across the country.
Ste. Claire holds a bachelor and masters degrees from the University of South Florida in archaeology and cultural resource management, and is a former museum director and college instructor.
He has served as chair of the St. Johns County Tourist Development Council and the city's Historic Architectural Review Board as well as numerous state and national boards. St. Claire is a published author of three books.
Let us know what you think >>