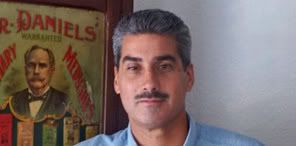 Dana Ste. Claire, national director of museum services for Historic Tours of America, will be interim director for St. Augustine's 450th Anniversary by action of the St. Augustine City Commission at last nights meeting.
Mayor Joe Boles made the proposal and fellow commissioners agreed.
The announcement came at the end of the regular meeting, along with a list of major projects being discussed for the 2013-2015 commemoration period, from the Ponce de Leon Quincentenary through our 450th.
Dana Ste.Claire is National Director of Museums for Historic Tours of America, Inc. He designs and develops history museums, historic attractions, themed destinations, festive marketplaces, themed retail stores and interpretive programs across the country for HTA. He also serves as a heritage tourism specialist for the company nationally.
Ste.Claire holds B.A. and M.A. degrees from the University of South Florida in anthropology/archaeology and cultural resource management with post-masters graduate work in anthropology and management. He is a former museum director, professional archaeologist, and college instructor.
Ste.Claire is currently Chair of the St. Johns County Tourist Development Council (TDC), Chair of the Historic Architectural Review Board (HARB) for the City of St. Augustine, a member of the President's Council for Flagler College, and sits on the Board of Directors for the regional Florida Public Archaeology Network (FPAN) at Flagler College.
Ste.Claire is a recent past member of the Board of Directors of the St. Johns County Chamber of Commerce and the Chamber's Heritage Tourism Task Force. He recently sat on the Board of Trustees for the Florida Trust for Historic Preservation; he is a member of the National Trust for Historic Preservation.
Ste.Claire was recently appointed to the Florida Folklife Council by the Secretary of State. He is a former member of several state and national boards, including the Secretary of State's Historic Preservation Advisory Council (1992 – 1999) and the State Heritage Tourism Council (1999 – 2003).
Ste.Claire formerly was a City Commissioner with the City of Lake Helen, Florida, and prior to his term in office was Chair of the City's Planning and Zoning Board and the Historic Preservation Advisory Board. He was also a member of the Volusia County Historic Preservation Board.
Ste.Claire directed the 10-year restoration and development of Old St. Augustine Village Museum, a city block-size complex of historic houses, and is currently designing and developing HTA museums, facilities and programs in Boston, St. Augustine, Key West, San Diego, Savannah, among other major heritage tourism destinations.
In Boston, Ste.Claire is currently designing a 50,000 square foot museum dedicated to the Boston Tea Party.
The Old St. Augustine Village project was the recipient of a Florida Trust for Historic Preservation award in 2000. Ste.Claire is a former feature columnist with the Orlando Sentinel (1989 – 1999), a PBS television host (Florida Crackerbarrel), and has authored three books, including Cracker: The Cracker Culture in Florida History and Borders of Paradise (both University Press of Florida publications). Cracker was the recipient of the Washbon Book Award in 1999.
Ste.Claire recently completed a yearlong tour as a Road Scholars speaker for the Florida Humanities Council.
Ste.Claire speaks regularly at tourism meetings, state and national conferences, and to government agencies on heritage tourism and heritage visitor behavior. With his anthropological training as a foundation, his industry and research interests fall into the areas of heritage visitor behavior, particularly visitor expectations and preferences, organization of the visitor experience, destination perspectives, and interpretive paradigms.
Collectively, his work has been referred to as the "anthropology" of heritage tourism. Authenticity, sense of discovery, immersive environment, entertainment education, and uniqueness of experience are paramount to a successful heritage visitor experience and are important elements for effective interpretive design.
Ste.Claire is also active in the preservation of authentic environment through historic preservation efforts.
As HARB chair, he developed a demolition ordinance and related regulatory overlay for St. Augustine, Florida, the nation's oldest city, maintaining that the continued loss of historic fabric would have wide-reaching negative impact on the economy of this important heritage tourism destination. This focus on the economic impact of historic preservation, particularly through heritage tourism programs, is the basis of many initiatives.
With the TDC, he implemented and coordinated a comprehensive heritage tourism/economic impact study for St. Augustine conducted by the University of Florida in 2002. The study demonstrated that the heritage tourism audience in St. Augustine was not homogenous, but rather segmented and specialized, and that an unaccounted excursionary audience increased annual visitation numbers two-fold (4 – 5 million yearly) with profound economic impact.
Share your thoughts with our readers >>