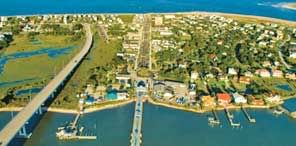 Beginning April 12th at 12 noon, residents and visitors will enjoy the convenience of their very own Farmers Market. The Sunday Market is to be held every Sunday from 12:00 noon till 4:00 p.m.
Market visitors will find fresh produce, desserts, baked goods, on-site cooking, arts, crafts, entertainment and much more.
The Sunday Market, more than one year in the making, received final County approval on Monday, March 30th.
Approximately 40 vendors from Vilano Beach and surrounding areas will be out every Sunday. The grand opening event will feature appearances by the Easter Bunny.
In our current economy, food buyers have gone back to basics and purchasing from our own Florida Farmers.
The Sunday Market organizers recognize this growing trend and see the need to provide a venue for our farmers to get their products in front of the community.
"The Vilano Beach Pier is an ideal location to host a community market. It is a beautiful newly renovated area that hasn't been utilized to its full potential. This location is also extremely convenient for the Vilano Beach residents as well downtown St. Augustine residents and visitors." says Market Manager, Mitch Hall
Space is limited, however, there a few vendor spaces left. For vendor and guest information, please contact Mitch at 904-540-8797.
The official website, www.thesundaymarket.com, features links to location, weather, and vendor application information.
Let us know what you think >>