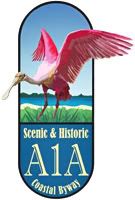 Friends of A1A Communications Consultant, Beverly Keneagy, invited Historic City News readers to participate in the first ever "Super Scenic A1A Highway Garage Sale" that will be held on Saturday, November 14th along the nationally designated A1A National Scenic Byway.
The idea for the event originated in the South Ponte Vedra Beach area, and the interest spread from there to the Vilano Beach area. "The Friends of A1A passed the idea along to other civic groups along the 72-mile byway through St. Johns and Flagler counties," Friends Administrator Sallie O'Hara said.
For those who do not live along A1A and want to participate in the sale, the Friends has arranged for space at two locations: the South Ponte Vedra Civic Building, 2749 South Ponte Vedra Boulevard; and 1616 S. Oceanshore Boulevard, Flagler Beach.
Those interested in securing space at those locations or hosting a garage sale should contact the Friends of A1A in advance at 904.824.1395 or 904.501.5545.
The Friends of A1A is offering participants a special balloon to indicate they are part of the event. A $5 donation fee will cover the promotional costs and benefit the Friends of A1A.
It's unknown how many persons will be hosting garage sales on that day, or what times they will be participating. "Buyers should plan to get an early start," O'Hara said.
"We are hoping this will be a great day for bargain hunters to take a scenic and historic drive down A1A and find great sales in the two counties," she said. "This is an opportunity to recycle our household goods and earn some extra money for the holiday season."
In addition to the Friends of A1A, others participating in the garage sale are the South Ponte Vedra Civic Association, the North Shores Improvement Association and the Ocean Grande Community (at the parking lot across from the Serenata Beach Club).
The Friends of A1A Scenic and Historic Coastal Byway is a non-profit organization that protects, preserves, and enhances resources along the A1A National Scenic Byway. This citizen's advocacy group partners with municipalities, governmental agencies and other civic groups to maintain and improve resources along the corridor.
Designated in 2002, the Byway is rich in history, nature, archeology, culture, scenery and recreation. The Friends of A1A's efforts benefit residents and travelers alike by maintaining the identified intrinsic resources while allowing economic development.
Let us know what you think >>