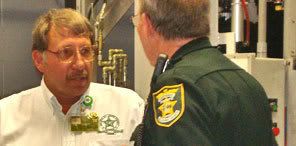 Kevin Kelshaw reported to Historic City News that at this hour the St. Johns County Sheriff's Office, along with County Marine Rescue personnel, are searching the ocean near the Matanzas Inlet for a missing swimmer.
According to witnesses, the 25-year old male victim was in the ocean with a boogie board along with a female swimmer a good distance from shore and in rough water.
The male lost his grip with his boogie board and then grabbed hold of the female's board. He then lost his grip with that board and disappeared under water.
This occurred around 1:30 p.m. today.
The Sheriff's Office helicopter is assisting in the search and the U.S. Coast Guard is responding to assist as well.
The name of the victim is being withheld pending notification of next-of-kin, however he is a resident of a foreign country.
More details will be released when they become available.
Share your thoughts with our readers >>