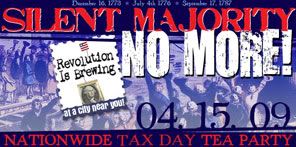 Historic City News learned that the Tax Day Tea Party is a national collaborative grassroots effort, born of the frustration of seeing where our tax dollars are being spent.
In St. Augustine, the Tea Party will take place on the grounds of the Castilo de San Marco (AKA- The Fort) on Wednesday April 15, from noon to about 5pm.
The Tea Party will feature music, a speech or two, and who knows what else. It's an event to designed to enlighten you and encourage you to participate in the same kind of actions our forfathers did in 1773.
A statement from the organizers: "We are a non-partisan grassroots movement that is tired of the Governments reckless spending of money that we don't have on programs that we don't need that will only end with unprecedented Government Control. The CBO (Congressional Budget Office) and numerous economic advisors agree that the current spending and proposed tax increases will only stand to hinder the growth in our ailing economy. History has proven that Tax Cuts are one sure way to get our economy back on track, not tax hikes and defiantely not handouts."
Paul Porter from WFOY is going to broadcast his show live at the event from 3pm to 5pm.
Share your thoughts with our readers >>