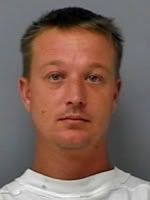 Kevin Kelshaw reported to Historic City News that 34-year old Ronald Wayne Taylor who resides at 9820 McMahon Ave. in Hastings was arrested on charges of burglary to a structure, grand theft, and criminal mischief Thursday.
"These charges stem from an incident that occurred about three weeks ago at a Hastings farm." Kelshaw said.
Property Crimes Unit detectives arrested Taylor yesterday and he was booked into the County Jail without bond pending a first appearance hearing this morning.
A burglary was reported to a shed on Byrnes Farms in the 800 block of Federal Point Rd. that occurred between 12:00 a.m. and 7:00 a.m. on September 8th.
Entry was gained by cutting a hole in the back wall of the shed. Reported stolen were numerous tools, a rifle, a cross-bow, four tires and rims along with six rods and reels. Total value stolen was nearly $4,000.
An employee of the farm discovered that an unidentified man was selling a cross-bow for $200. The employee wanted to determine if the cross-bow was the same one that was stolen. It was, and the farm employee bought it back from the man.
When questioned, the man identified the suspect as the person who provided him the cross-bow. Other evidence revealed that the suspect left behind a hydraulic hinge at the crime scene.
The cross-bow along with the tires and rims were returned to the victim.
Additional suspects and charges are pending further investigation.
Let us know what you think >>