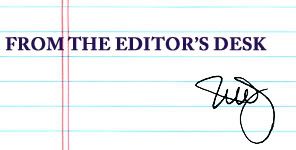 What a week.
Former County Commissioner Mary Kohnke wrote a letter to a local editor that was published under the title "Colavito's ouster from key county post questioned".
I know Dr. Maria Colavito and her husband Dr. Anthony de Nicolas. Maria is a well educated and capable individual and someone who played an essential role in saving and reshaping the St. Johns County Health and Human Services Department at a time that its future seemed doubtful.
In an announcement from County Administrator Michael Wanchick last June, Wanchick asked all County departments to closely scrutinize their costs and programs to find ways to provide better services more efficiently.
According to the announcement, Health and Human Services Director, Dr. Maria Colavito, responded by working with Administration to look at all options, including the possibility of outsourcing.
Ultimately they determined that reorganization was the most effective way to rededicate organizational resources to the delivery of client services.
St. Johns County has reorganized the Health and Human Services Department to produce a more focused delivery of services. By consolidating administrative functions in the Mental Health, Social Services and Community Based Care Divisions, the County expected to save more than $600,000 annually with no decrease in client services.
Kohnke speculates that in a communication from Wanchick, Colavito was told that she was being transitioned out of her job — meaning, it seems, fired. I don't take the same read as Mary Kohnke on this allegation.
I spoke with the public affairs department at the county and they tell me that as part of the evolution outlined above the role of the Director was also changing.
It is clear to me that Dr. Colavito has a skill set that allowed her to grow in her position. The county benefited from those skills for a number of years. Dr. Colavito had the support of former Commissioner Jim Bryant who would advocate for her in meetings of the Board. Maria earned her approximate $109,000 salary; which is not out-of-line for county department heads.
The skill sets that are going to be important to the county in the future include attending to the day-to-day operations needs of the department, skills in leading the staff and working cohesively with management in the county administration as well as the Board of Commissioners, and are skills that Wanchick feels should be the subject of a search of qualified candidates both locally and in other areas of the country.
Rex Emerick has been selected to serve as Acting Director while the county conducts this search, but, make no mistake, Dr. Colavito has known about this decision for about a month and she has been using vacation time – which she has earned – in lieu of returning to work. I also know Rex and he is well qualified to hold down that position.
The claim by Dr. Kohnke that a county Health and Human Services employee "was told to go with Dr. Colavito to her office to be sure she only removed her own belongings" is in dispute.
It appears to paint an inaccurate and unfair picture that Maria was fired for some nefarious reason. She wasn't.
Kohnke asks "Another question is why?" "Or is it something else?" and she raises the specter that some county officials, including Dr. Colavito's direct supervisor, Assistant County Administrator Jerry Cameron, are somehow furthering a hidden agenda and pushing the non-profit EPIC Community Services organization – ostensibly as part of the reason for Dr. Colavito's release.
During the County Commission meeting this week, the Board unanimously accepted the recommendation of the County Administrator and they ratified the negotiated terms of Dr. Colavito's release — including about $79,000 in severance compensation and benefits.
We don't see payments like that in cases where people have done anything wrong that would lead to them being "fired", Dr. Kohnke.
Dr. Kohnke concludes, "It is a sad day for all when we can't tolerate our honest, effective and best qualified county staff. There's no place for the best in St. Johns County."
I'm not sure the reason for the rhetoric but I am suspicious of the motives; especially when it comes to allegations by Mary Kohnke aimed at Jerry Cameron.
There is no love lost between those two and that has been publicly known since Cameron wrote that he worked to unseat Kohnke when she was running for re-election to the Board. Kohnke lost that re-election bid.
Share your thoughts with our readers >>