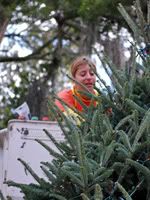 Parks Division employees with the St. Augustine Public Works Department spoke with Historic City News this morning while they went about adorning the decorated tree — just as they have since Nights of Lights began in 1994.
The City of St. Augustine manages the installation and maintenance of displays in the Plaza and at over 100 locations; including buildings, parks, and gardens throughout the city.
The Nights of Lights is funded by the City of St. Augustine and the St. Johns County Tourist Development Council.
Area businesses and residents voluntarily participate, at their own expense, truly making the city a city of light.
Light-Up! begins at 6:30 p.m. when Mayor Boles officially opens the ceremonies from the King's Balcony at Government House. The most exciting moment on Light-Up! Night follows with the "flipping of the switch" from the Gazebo; first for the decorated tree and then to light the city.
Budget constraints may make this year's tree a bit smaller, but as Jessica was stringing the colorful lights, she promises the final product will be just as wonderful. The city purchased the tree locally from Lightsey and Sons, who brings in fresh trees, pumpkins and Indian corn each year for the fall holidays.
Originally, governmental officials were called upon to flip-the-switch. Later, the honor was given to members of the community identified as unsung heroes; those who contributed to the betterment of the community — often without recognition.
Mayor Boles took the best of both traditions and created a new one by recognizing those who have given of themselves as public servants to the city but who may have been forgotten.
For the last two years, the Mayor has invited all former St. Augustine Mayors to join him in the ceremonies. Each year, one of those present has the honor of flipping the switch to light the city.
Mayor Boles is St. Augustine's 118th mayor since the city became part of the United States in 1821. Currently there are 13 living former mayors and all have been invited to participate in the ceremony. They, and their years of service, are:
Ronald Jackson (1949-1950) Walter Bugeski (1958-1959) John Bailey (1965-1967) Arthur Runk (1973-1975) Edward Mussallem (1975-1979) Fred Brinkhoff (1979-1981) V. Noel Helmly (1981) Ramelle Petroglou (1981-1982, 1983-1985) Tracy Upchurch (1990-1992) Greg Baker (1992-1995) Len Weeks (1995-2000) Mark Alexander (2000-2002) George Gardner (2002-2006).
Photo credit: © 2009 Historic City News staff photograph
Let us know what you think >>