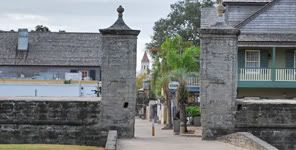 The City of St. Augustine reported to Historic City News that HARB Chairman Fred Halback along with members Paul Weaver, Les Thomas, Ken Smith and Len Weeks will convene on Thursday, November 19, 2009 at 2:00 p.m. in the Alcazar Room of City Hall, 75 King Street, St Augustine, Florida.
Appearing on Thursday's agenda, Kenneth R. Smith and David J. Luke will seek an Opinion of Appropriateness to construct the new Flagler College Welcome Center at 63 Cordova Street. According to The St. Augustine Report, Flagler's vice president of Business Services, Ken Russom, requested that the matter be tabled until the December session.
The following Certificates of Appropriateness are scheduled to be heard:
A previously tabled request will be heard to remove sliding glass doors and replace them with French doors and windows by the Florida Army National Guard at 82 Marine Street.
The St. Augustine Historical Society is asking to remove the existing shingle siding on the dormers and replace them with lamarite shingles to match the roof at 6 Artillery Lane.
Paul Thompson as applicant for owner French Connection, LLC, wants to remove a window and install a door in the interior courtyard at 67 St. George Street.
Architect and City Commissioner Don Crichlow has applied to construct a residential addition and carport for Glenn and Susan Anders at 294 St. George Street.
The City of St. Augustine will request approval to install pedestrian directional signage in the historic districts.
George Arnold returns to HARB for the third time Thursday with his request to demolish historic properties at 74 and 76 Spanish Street and the former Casa de la Paz at 22 Avenida Menendez. HARB sought additional information at previous sessions.
While Arnold gained HARB approval earlier to convert the Spanish Street properties into a restaurant and made changes to convert 22 Avenida Menendez into a personal residence, HARB's refusal to allow more modern concrete roof tiles on his roof apparently upset him to the extent of starting over.
Certificates of Demolition
George Arnold, 76 Spanish Street, LLC, to demolish structure at 76 Spanish Street (circa 1840).
George Arnold, 74 Spanish Street, LLC, to demolish a structure at 74 Spanish Street (circa 1865-1884).
George Arnold, to demolish a structure at 22 Avenida Menendez (circa 1890 SJCPA, circa 1910-1917 FMSF)
Rene and Liisa Maria Welti are asking to demolish a structure at 72 Weeden Street (circa 1930).
Photo credit: © 2009 Historic City News photographer Kerry McGuire
Let us know what you think >>