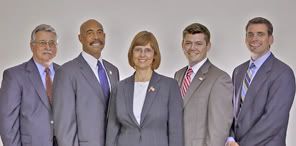 Historic City News has been informed that the St. Johns County Board of County Commissioners will begin their regular meeting on Tuesday, September 15, at 1:30 pm instead of the normal 9:00 am start time.
The regular agenda includes a 5:30 pm public hearing on the fiscal year 2010 budget.
At the budget public hearing, staff will give a presentation to the County Commission, followed by public comment, before the Board adopts a tentative millage rate and tentative budget. The second public hearing and adoption of the final millage rate and budget will be scheduled for September 22 at 5:30 pm.
All meetings of the Board of County Commissioners are held in the County Auditorium, located at 500 San Sebastian View in St. Augustine. The meetings are also broadcast on the St. Johns County Government Channel, available on Comcast cable or streaming from the County's website.
Share your thoughts with our readers >>